Wine shelves : Your great wines from all angles
.
Contemporary design combining metal and wood, Millesime wine racks are especially made to highlight your wine bottles from every angle.
Building on a decade of solid and exciting achievements in the wine cellar industry, we believe it was time to bring wine cellar racking to a new level.
The Millesime Wine Racks custom made wine cellar allows you to create the wine cellar that best suits your needs. Discover also our advice for a wine cabinet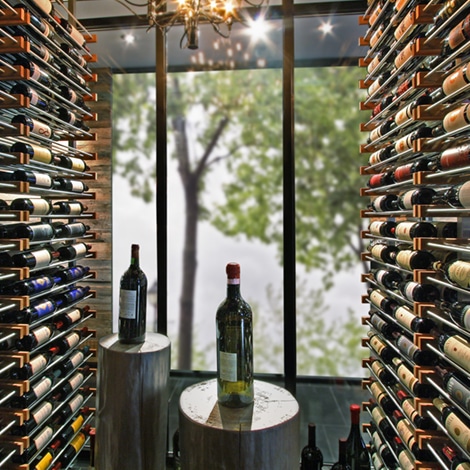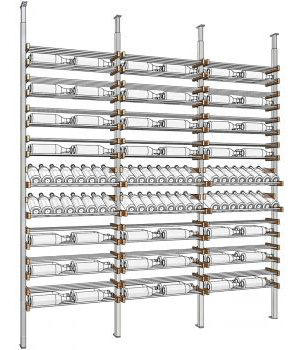 Our classic enhanced with presentation rows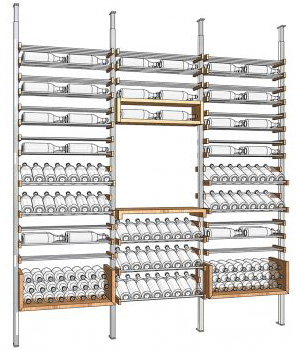 All the great features highlighting our display box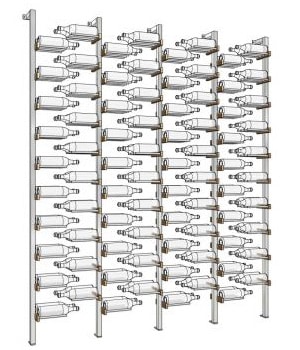 All the great features highlighting our display box
All rights reserved © 2013-2022 Millesime wine racks
The wine cellar layout according to Millésime Wine Racks, the best choice for your great wines!
Whether you are a personal
cellar
, a winery, a boutique, a hotel or a restaurant,
Millésime Wine Racks
offers you solutions and creations for a
wine cellar
that suits you. Professionals in interior design dedicated to wine, our
designers
put all their creativity at your service to imagine and design
storage
systems and conservation that highlight the wealth of your
wine collection
. For a top-of-the-range arrangement of your wine cellar, you benefit from a real expertise from our fitters, carpenters and designers to conceive a unique storage and conservation space for your exceptional bottles, your great vintages and your wines to drink.
Make your dreams come true with a custom wine cellar!
Wine cellar
for service,
aging
cellar or mixed cellar, personalize the den of your wines with our customizable shelves, it is above all to please you, but also to allow your
precious nectars
to be sublimated in optimal conditions. Each of the
wine cellar layout
solutions that
Millésime Wine Racks
offers calls on the expertise of different players who all work in different fields related to the specific design of
spaces dedicated to the world of wine
. Our
wine cellars and shelves
are the result of a collaboration between designers, interior architects, wine artisans, wine professionals and service specialists. Our professionalism and recognized know-how are the guarantees of a
unique
and high quality
wine cellar
: an essential case to preserve your
wines
or to present your
bottles
in the best way.
How to choose your wine cellar ?
Whether you are a connoisseur, a lover of good food or a
wine bottles
a born epicurean,
cellarman
professional or
conservator
it can be complicated to define which type of
wine cellar
You can turn to it so that it meets your wishes of design as much as it allows your great wines to be sublimated and to be emphasized. Depending on your uses, the purpose and functionality of your wine cellar will differ between the choice of an aging cellar, a serving cellar or a storage system and
wine shelves
for presentation.
The aging wine cellar
Whether you want to keep your bottles of wine for a few months or maintain them in an environment conducive to the aging of beverages until they reach the peak of their flavors and tannins, it is appropriate to reproduce in an indoor space, the real conditions of an underground wine cellar. Maintaining a constant temperature of around 12 degrees on average is essential for the proper conservation of your great wines. Our wine racks help you maintain the stability of your bottles and optimize their aging potential.
The service wine cellar
If you are a private individual used to tasting wines that have reached their peak on a regular basis or a restaurant owner who needs a wine cellar that is also a tasting area or a place to access your bottles to be served at your guests' table, the serving cellar is the perfect arrangement. Thanks to a multi-temperature zoning system, the wine cellars equipped with Millésine Wine Racks allow to answer the specificities of tasting of all types of red wines, rosés, white wines and champagne…
The mixed cellar
What if you didn't have to choose between an aging cellar and a serving cellar? This is what makes Millésime Wine Racks exclusive. We offer you the opportunity to combine the different technologies necessary for the storage of your great wines to create a storage and tasting area with different solutions proposed by the best manufacturers such as glass-holders, a work surface, multi-temperature zones and multiple wine accessories.
The wine rack
In the store of a wine merchant, a restaurant or a business, the display of the bottles and the self-service access of the bottles is often considered as a selling point.
Millésime Wine Racks
offers you custom-made wine racking solutions, adaptable to all surfaces, modular and scalable.
What type of wine racks for your bottles?
You have a lot of choices to store and/or display your wine bottles. Cases, bottle racks, shelves, wine cabinets, display units, wine racks… But to choose the right
storage solution
for your wines, it is above all the configuration and the constraints of your
storage space
that will be decisive in the choice of the type of shelves.
Millésime Wine Racks
allows you to showcase your
wine bottles
in a new way. The different storage systems we offer to our private and professional customers with various options of dimensions, depth and equipment are available in a variety of forms and presentations. Then, after determining which
wine rack
is best suited to your uses and wines, it is time to call upon the advice and expertise of our design technicians to choose the type of materials used to make your
custom wine rack
. We offer anodized aluminum
finishes
, but also walnut, oak or acrylic in different colors, giving you the possibility to combine finishes and materials for an
exclusive storage solution
that fits ideally in your interior, in your restaurant or in your sales area.
Incomparable conservation and aging conditions!
Beyond the architecture, the design and the finishes chosen for a
wine rack
or the
layout of a wine cellar
, it is important to take into account the different factors that influence the
aging
and
preservation
of wines. When we design
our wine racks
The respect of the product and the work of the wine grower is anchored in our values so that we do everything possible to allow the wine to reveal its full potential thanks to a favourable and ideal environment within our storage space creations. Quality of insulation, hygrometry control, ventilation, air filtration, anti-vibration systems, treatment of UV radiation even with glass doors or walls, the case in which your precious beverages rests becomes a real invitation to the sublimation of flavors and it is all the refinement of our custom-made wine racks that brings a unique cachet to your cellar.
The advantages of the modular wine cellar!
Over the years, we have realized that it is imperative to offer
wine storage
solutions that can evolve to meet the different needs of our customers and to adapt to changes in behavior and usage. Thus,
Millésime Wine Racks
offers
wine racks
and
wine cellars
that allow to :
Create a display wall for your wines with solutions that adapt to your ceilings and walls to fit the entire surface of the room.
Combine different wine cellars to meet different aging, preservation or service needs.
Play with the effects of presentation thanks to wine shelves that allow you to store your bottles horizontally, vertically or at an angle and to choose several depths.
Design multi-purpose spaces by combining a wine cellar with display shelves and areas dedicated to other products. An ideal solution for shops or catering establishments.
In addition to being infinitely modular, our
personalized wine cellars
can be mounted on walls or ceilings and can even be embedded in your walls, run along a corridor or be positioned as an island in the center of a room or a space to become the centerpiece of your interior design.
What about the layout of your natural cellar?
If you already have a
natural underground cellar
or troglodyte which gathers all the conditions allowing a
conservation
and a
aging
of your wine bottles, hygrometry, darkness, temperature, absence of vibrations… you can give it a unique cachet and design thanks to our
design solutions
. Facilitate the management of your cellar by opting for wine shelves that allow you to highlight your collection of bottles but also to add boxes and wine cases in order to maximize your storage volumes and your container capacity. Choosing to fit out an existing wine cellar gives you the opportunity to create a unique atmosphere, an exclusive ambiance in a storage and
tasting
space that reflects your image. The combination of glass, wood and metal, all noble materials, creates a design and contemporary environment that breathes all the authenticity of wine. Wall-mounted storage rack, built-in cabinet, display stand, display column, wine case location, nothing is impossible to organize, present and enhance
your wine cellar
.
How to customize your wine cellar or wine rack?
With the shelving solutions and
wine cellars of Millésime Wine Racks
we give our clients the opportunity to design
storage and preservation spaces
for their wines that are fully designed to meet their desires but also the capacity and functionality of the venue. Choice of depth, corner row for standard bottles or magnums, counter, U-shaped box, display box, glass rack, niches, types of fixings, wood, metal or acrylic finishes… You are spoiled for choice when it comes to imagining the space that suits you for floor-to-ceiling bottles according to your capacity. Although we have several presentation standards, our storage solutions have been designed to satisfy all desires and to differentiate styles and functionalities in countless combination possibilities. The only limits are those set by your imagination and the technical constraints of the room to be fitted out to become the
den of your great wines
.
Why choose Millésime Wine Racks for the layout of your wine cellar ?
With many years of significant experience in the realization of wine cellars, we found that most of the existing offers did not meet the specific needs expressed by our customers
wine lovers and collectors
and that we needed to evolve our concepts if we wanted to offer
innovative solutions
and exclusive. It is this choice of excellence and customization that allows us to offer you turnkey solutions and fully customized to provide you with the
wine cellar
of your dreams. The one that meets your design desires and allows you to store all your
wine
collections with refinement to be
aged
or tasted. When you contact our teams, we take into account your needs and the characteristics of the space in which you want to set up your future cellar while we impregnate ourselves with your aspirations in order to propose a
system of storage
and presentation which corresponds to you. Study, project follow-up, delivery, assembly, installation and layout work, maintenance, advice for upkeep, response to your needs for evolution, after-sales service, it is an
accompaniment from A to Z
and over the long term that is offered to you when you choose to trust
Millésime Wine Racks
. Located in Grasse, in the Alpes Maritimes department, our
manufacturing workshops
allow us to meet the demands of
wine cellar creations
everywhere in France and internationally for anyone who wants to carry out a customized project. Entrust us with your desires, we will make them a reality that will allow you to highlight your most
prestigious bottles
and invite you to unique moments of
tasting
.