Configure your custom wine cellar with Millésime Wine Racks !

CUSTOMIZE AND SUBMIT YOUR WINE RACK WITH A FEW SIMPLE CLICKS

YOUR PARTS LIST IS CREATED ACCORDING TO YOUR CHOSEN SPECIFICATIONS

OUR TEAM BUILDS YOUR CUSTOM WINE RACK

OUR TEAM PACKS AND SHIPS YOUR NEW CUSTOM WINE RACK!
WINE RACKS MILLESIME WINE RACKS
You can customize and configure your wine rack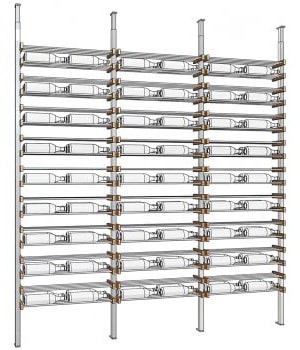 The original Millesime: clean, linear, elegant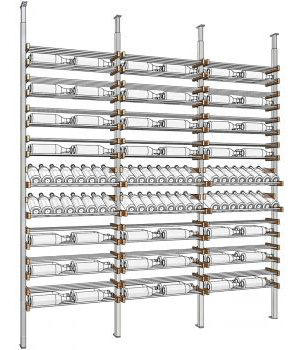 Our classic enhanced with presentation rows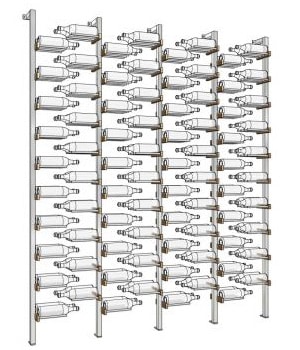 Our new design, a unique perspective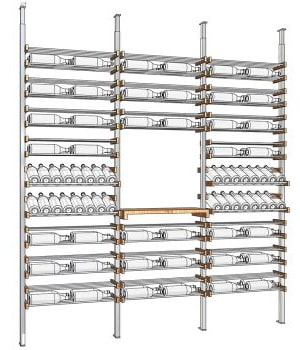 Designed with a hand crafted counter top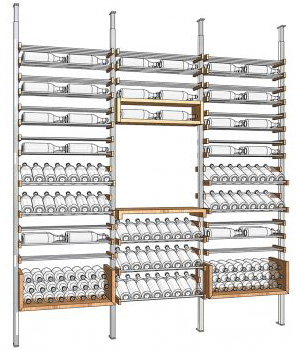 All the great features highlighting our display box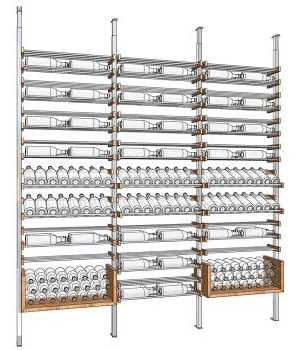 Presentation rows and U-Shelves, a perfect match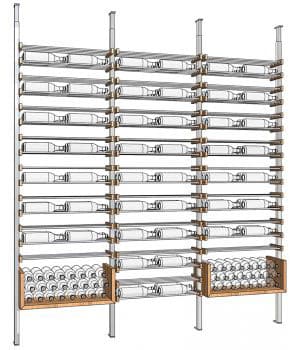 Adding solid wood shelves to increase storage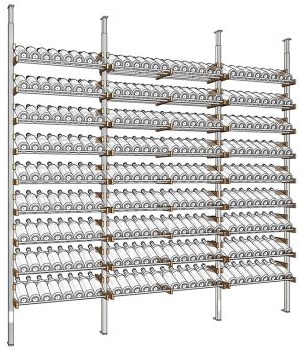 All presentation rows, an impressive display
All rights reserved © 2013-2022 Millesime wine racks
Configure your custom wine cellar with Millésime Wine Racks !
Your needs
To age your wines, to optimize the service of your bottles within the framework of a restaurant, to combine space of ageing and tasting, each one of these uses makes it possible to target the nature of your need and to define which type ofwine cabinet or wine cellar is appropriate for you. Whether it's an aging cellar that allows the wine to reach its peak, a serving cellar that provides the ideal temperature for tasting, or a multi-purpose cellar that combines both uses, there's a cellar to suit every need! Temperature, humidity level, insulation, ventilation, anti-uv lighting, anti-vibration system, positioning of bottles, depth and layout of wine cabinets and shelves, everything is taken into account to reproduce the best possible conditions and an environment similar to that of a natural cellar.
The capacity
The number and type of bottles you plan to install in your custom wine cellar will determine the dimensions of your storage systems.
With Millésime Wine Racks' modular and complementary storage solutions, you have the opportunity to create storage spaces for small wine cellars as well as for the largest cellars of the most discerning collectors or restaurants.
The location
For professionals, restaurants, hotels or wine bars, the choice of the location of the wine cellar will depend on the constraints of surface, the atmosphere and the style of the establishment but also on the atmosphere that you want to create around the sommelier theme. While a glassed-in wine cellar placed in a central position in the middle of the clientele brings an incomparable cachet to your establishment, a desire for confidentiality and a touch of authenticity can push you to prefer a more confidential layout, in a cellar or in the basement. As for the wine merchants, it is in their interest to stage the presentation of the bottles of nectars they sell. Showcasing the bottles and allowing self-service is an essential condition for cellar sales. Finally, individuals are spoiled for choice when it comes to installing their own custom wine cellar. In an island in the middle of a kitchen, under a staircase to take advantage of an open space, on the wall of a living room, in a pantry or in a more intimate place like a dedicated room or in the garage.
The installation
Depending on the specifics of your business or home, the installation of your custom wine cellar may encounter certain space constraints. In order to respond to each of the possible problems, the Millésime Wine Racks ' team of wine cellar designers has imagined adaptable, built-in, modular and/or integrable solutions that allow you to optimize your space while creating unique cases for your wine bottles.
The materials
Beyond the various elements to be planned for a unique and design cellar, the choice of materials and coverings is very important as it is on it that depends the aesthetics of your wine cellar. At Millésime Wine Racks, we offer our customers a rich variety of finishes in anodized aluminum, walnut and oak wood, stained or natural, as well as acrylic in various shades. Trust our team to imagine associations that will meet your project while fitting in with harmony and refinement in your interior decoration or within your store.
The interior design
Display shelves, storage boxes, tasting counters, alcoves, glass racks, aluminum shelving, depending on your needs, it is possible to create shelves and storage areas that meet each of your uses: aging, conservation, tasting, service … The same goes for the lighting, which must be designed using technologies that filter out UV rays, which are harmful to the optimal preservation of your bottles.
Adding character to your rooms
Add character to your restaurant or your professional wine cellar while seducing your clientele with the staging of your wine cellar! Make your wine cellar a design element of your interior decoration! Give your passion for wine an inspiring place to showcase your prestigious nectars!
Whether you are a private individual or a professional, Millésime Wine Racks can design and build your personalized wine cellar according to your aspirations, the layout constraints and your uses. Aging wine cellar, cellar of conservation, service cellar, mixed cellar of presentation and tasting, thanks to our solutions ofarrangement of wine cellars to measure, we answer each one of your needs with top-of-the-range, unique, practical and contemporary creations.
The design of your custom wine cellar according to Millésime Wine Racks, how does it work ?
Thanks to our online wine cellar and wine rack customization tool, you have the freedom to discover all the design opportunities available to you. Showcase, shelf, tasting, showcase, you have the embarrassment of choice among the various possible variations while keeping in mind that our solutions are fully modular and associable between them. Once you have a clearer idea of what you want and what we are able to provide, a contact with our designers of custom wine cellars will allow us to refine your project and create a list of elements to be planned to make it a reality. After building your entire custom storage system, we pack and ship your layout for on-site delivery. Under the stairs, natural cellar, wine store, showroom, wine cellar in central island, nothing is impossible as Millésime Wine Racks storage systems allow modularity and customization.
How to design a custom wine cellar?
While our custom wine cellar design solutions can accommodate any use, style or location, it is important to ask the right questions when creating a home for your precious bottles. Why do I need a wine cellar? How large is my collection and how will I grow it? Where will my wine cellar be positioned? What type of installation is best? What materials will add character? How do I arrange the interior and shelves of my wine cellar? So many questions whose answers will constitute the specifications to respect for the creation of your storage space for your red, white and rosé wines but also for your bottles of champagne and other spirits.
Why choose Millésime Wine Racks to design and install your custom wine cellar ?
After the terroir, the grape varieties, the work of the winemaker and the bottling, Vintage Wine Racks stands alongside the wine loversexperienced or beginners, professionals and collectorsThe aim is to ensure that the wine matures in the best possible conditions while allowing it to be admired, explained and tasted in the best possible way. When you call on Millésime Wine Racks, you are partnering with :
An expertise and a know-how recognized worldwide by great oenologists, sommeliers and renowned hotels and restaurants.
A company committed to modularity, complementarity and durability of its custom wine cellar solutions.
A capacity for innovation via a development center that allows us to create solutions in response to changing consumer habits and evolving design trends.
A perfect reactivity and a great availability of our consultants for a customized customer service.
A 3D visual design to simulate the final rendering and implementation of your future cellar. An ideal solution to refine your project according to your personal aspirations.
A shared passion for wine.
Whatever your design desires, your cellar aging or conservation needs, Millésime Wine Racks reinvents the wine cellar layout by allowing you to bring in and reproduce the ideal conditions of a natural cellar in the interior of your home or establishment. In addition to the technical requirements to be respected for an optimal conservation of your great wines, a good wine cellar is above all one that meets your wishes, that participates in the style of your decoration and that puts in scene your vision of the wine, here is all that is allowed to you when you make the choice to create your wine cellar to measure with Vintage Wine Racks