Our customized wine cabinets

CUSTOMIZE AND SUBMIT YOUR WINE RACK WITH A FEW SIMPLE CLICKS

YOUR PARTS LIST IS CREATED ACCORDING TO YOUR CHOSEN SPECIFICATIONS

OUR TEAM BUILDS YOUR CUSTOM WINE RACK

OUR TEAM PACKS AND SHIPS YOUR NEW CUSTOM WINE RACK!
A wine cellar rather than a
wine cabinet
Whether you are a wine professional, an amateur or a wine enthusiast, owning a wine cabinet is a must for everyone.
To showcase your most beautiful bottles, maintain the right serving temperature for your beverages or simply keep your bottles within reach, the wine cabinet has many objectives.
However, the sizes of wine cabinets that are offered on the market are often either too small or too large, unattractive or difficult to adapt to your interior or to the layout of your store.
Millesime Wine Racks puts its expertise at your disposal to offer you alternatives to the traditional wine cabinet through the creation of customized wine cellars and shelves.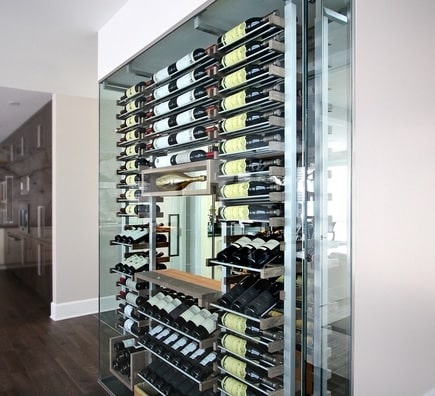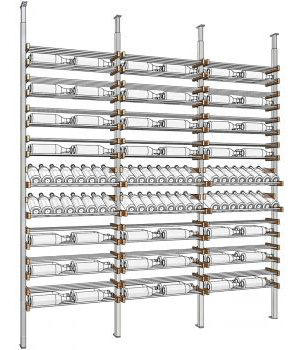 Our classic enhanced with presentation rows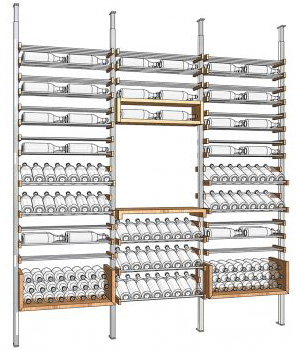 All the great features highlighting our display box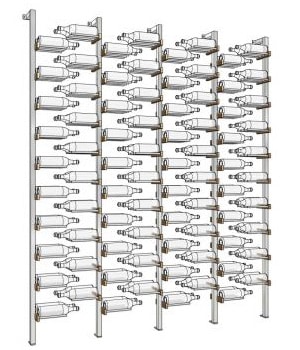 All the great features highlighting our display box
All rights reserved © 2013-2022 Millesime wine racks
What makes a good wine cabinet?
Before any aesthetic considerations, it is important to agree on what to expect from a
wine storage
space or presentation equipment. Indeed, the wine is a very fragile
nectar
which requires to be preserved in very precise conditions and the
bottles
are cases which require to be treated with respect and delicacy. Among the factors of
conservation
to be respected, a
wine cabinet
must propose :
A constant temperature
If there is one event that wines do not appreciate, it is undoubtedly temperature variations. For a beverage to be sublimated in the best conditions, the storage space must have a stable temperature around 12 degrees.
Controlled hygrometry
The humidity level should be maintained between 70 and 80%. Lower down, there is a risk that the cork will dry out and no longer adhere to the walls of the bottle, allowing air to enter. Higher up, the labels suffer the ravages of mold and mildew.
Optimal ventilation
The good quality of air circulation in a storage space is an essential condition to prevent corks and labels from deteriorating and endangering the contents of the bottles.
The absence of odors
Storing products in the same place as the one you use to store your wine bottles can, by the odors they give off, jeopardize the precious nectar. We must not forget that wine is alive and that it is likely to be impregnated with the volatile scents present in its environment. In order for the aging process to reveal itself, the beverage must be stored in a purified ambient air.
The light
In addition to darkness, it is the treatment of UV radiation that prevents oxidation of the wine. By protecting your bottles from light, you maximize the potential of their contents. Solutions exist with the custom wine cellar to keep an eye on your bottles while protecting them from natural light.
The vibrations
To age a wine is also to see it evolve and to see a light deposit of impurities and elements that the beverage does not need to sublimate itself. If your storage device is not adapted and your environment is subjected to various vibrations, this deposit will mix with the wine, creating an imbalance.
The security
Whether you are an experienced collector, a professional wine merchant or a lover of good bottles, each bottle that joins your cellar is often like a treasure in your eyes. It is therefore important to choose your wine cabinet according to whether it allows you to safely store each of your precious nectars. Priorities that require you to highlight each
bottle of wine
that is put on display for your customers and guests. So why not opt for a
custom wine cellar
rather than a cabinet with less charm?
Millésime Wine Racks
offers to provide you with custom-made wine racks that will allow you to create the cellar of your dreams while satisfying all the requirements of conservation, presentation and service of your
precious bottles
.
What if you made the choice of a personalized wine cabinet with Millésime Wine Racks' custom wine racks?
Whether it's a matter of keeping your
great wines
in optimal conditions to ensure a successful
aging
worthy of the most beautiful cellars or to arrange
conservation areas
or service optimization, it is above all equipment adapted to the style of your interiors and to your personal requirements that should be taken into account when choosing your
wine cabinet
. With
Millésime Wine Racks
, there are many opportunities to imagine, design and install the storage and display space for your bottles of
red
, white, rosé and other champagnes. Here are a few options given as an indication which can be interesting to add with other providers.
Glass
or
solid
Glass,
anti-uv
walls,
adjustable temperature
, models and sizes of
shelves
,
led lighting
,
anti-vibration
system, active thistle filter to limit
odors
,
hygrometer
, storage capacity, LCD screen, quality of materials… Whatever your aesthetic preferences, choosing to create your own
personalized wine cabinet
with
Millésime Wine racks
is the assurance of offering your bottles the
best possible conditions
of
conservation
and
aging
within a space that reflects your personality. Not only do your
storage areas
The design, versatility and flexibility of
Millésime Wine Racks
You can offer your customers and guests multiple opportunities for tasting, presentation of multiple beverages and decoration with the insertion of shelves and other alcoves.
Why is a custom wine cellar with Millésime Wine Racks a better alternative to a cabinet?
When you invest in a
wine cabinet
If you want to change your storage solution, you have to face several constraints: the impossibility of upgrading your storage solution, a choice of
personalization
limited, a capacity of
storage
and, too often, an aesthetic dimension not conducive to the development of your bottles of wine.
wines to keep
. Opting for an
aging wine cellar equipped with Millésime Wine Racks
opens up an infinite field of possibilities with a wide variety of layout solutions and options. Design of your
shelves
and
shelves
custom-made by the systems
Vintage Wine Racks
choice of noble materials aluminium and wood, but also selection from the best suppliers of your charcoal filter, your control screen and digital display, thermostat, hygrometer, adaptability of the capacity, compartments, accessories, built-in furniture, glass doors, double-glazing, work plan for unblocking, service and / or
tasting
… The only limits to the creation of your
custom wine cellar
are your requirements and your imagination. Choosing a
storage
or aging
cellar
with the
Millésime Wine Racks
means taking advantage of :
A wide choice of dimensions from 40 centimeters to more than three meters wide to fit all interiors and all cellar layouts of individuals and professionals.
Customized furniture height to meet the technical constraints of all your spaces.
A depth adaptable for one, two, three or four bottles of wine.
Finishes in anodized aluminum, wood of various aspects or acrylic.
Personalization of the counter, the box, the presentation box, the alcove or the tasting glass holders.
A 3D visual design to show you your personalized wine cellar in its environment and eventually make the necessary adjustments.
A turnkey project with on-site installation by professionals in the field of wine shelving.
The right questions to ask yourself to create your personalized wine cabinet!
From the
small
personal
wine cellar
to be integrated in your apartment to the complete showroom that places your
wine bottles
to the heart of your professional store by way of the
design wine cellar
that transforms the exposure of your
great wines
into a real decoration for your restaurant or your home,
Vintage Wine Racks
offers everyone the opportunity to own a
wine cellar
with a wide variety of customizable shelves. Beyond any criteria of choice purely oriented on the aesthetic side of your wine cellar, it is the specificities of operation that you must take into account so that they meet your expectations perfectly. Our
cellar design company with custom made wine racks
offers you to optimize your equipment by adding different options for which we can direct you to the best providers.
Glass door with anti-uv treatment.
Electronic model with digital display and touch screen.
Electronic thermostat and hygrometer.
Possibility of multi-temperature zones.
Different designs and materials.
Filtration of the ambient air.
This list is far from being exhaustive given the infinite possibilities of customization to which the designers and
manufacturers of Millésime Wine R
acks give you access.
Who are the custom wine racks designed by Millésime Wine Racks for?
Do you want to integrate a smart,
designer wine cellar
into your living environment, add a touch of elegance and refinement to the decoration of your hotel or restaurant, or even arrange your
professional wine cellar
in a fluid, airy way? Whatever your aspirations or the technical constraints you face, the
Millésime Wine Racks
team offers you its expertise and the excellence of its know-how to imagine, design and build your
custom wine cellar
thanks to the modularity of
our display
and storage
shelves
. Trusting the experience and creativity of our engineers and technicians is more than just a matter of
buy a wine cellar
! Our solutions offer you unique alternatives to the ordinary while providing the best environment for the preservation and ageing of your fine wines. Hotels, restaurants, wine bars, bistros, professional wine merchants, liquor stores, specialized grocery stores, large wine houses, independent wine growers, but also individuals, collectors or amateurs, the common point that gathers each of our customers remains above all the
passion for wine
The wine is the result of a unique combination of its cultures, its terroir and its grape varieties, which are placed on a pedestal when your bottles are arranged in a custom-made storage space.
Why choose Millésime Wineracks for your personalized wine cabinet?
With a rich and solid experience of more than a decade in the field of wine cellar shelving, our company
Vintage Wine Racks
now excels in the creation, design and installation of custom, flexible, modular and unique solutions through shelving in multiple styles and variations. Our know-how is expressed through contemporary creations that are in line with the times and adapt to the desires of our customers as well as to the constraints related to the layout or the objective pursued. Through the different configurations of
wine cellars
that we offer, you can create the sales area or the
aging cellar
that will contain the bottles for your customers as well as your personal collections of wines for aging, magnums and other containers. In partnership with renowned designers and interior architects,
Millésime Wine Racks
has developed storage systems for wine cellars and shelves that revolutionize the traditional vision of the cellar. No more storage or aging areas deep in a basement or inaccessible enclosed spaces. The
wine cabinet
is reinvented to become a
wine cellar
that combines modernity with elegance and design with functionality. To fit out a
wine cellar with Millésime Wine Racks
is to combine all the functionalities of a traditional
wine cabinet
with all the originality, modularity and uniqueness of a custom-made wine cellar that specifically meets your needs, your ideas and your budget. Make the choice of excellence for your
wines and grands crus
by choosing the know-how of
Millésime Wine Racks!